Book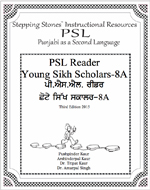 PSL Book 8A
The student at Level 8 will learn the vocabulary and read essays about the institutions of gurdwara, historical gurdwaras, Sikh Mariyada, principles of Sikhism and life of Baba Farid (in 2014). They will use the following resources to achieve the benchmarks.
Paperback
On sale : Jan,31,2017
Pages : 48 | Isbn : 98-651-1654
Level : 3+
This book focuses on the Sikh celebrations, and topics related to Guru Granth and Guru Panth. There are chapters about the gurdwaras with historical significance. Each lesson is followed by comprehension exercises.





Copyright © All Rights Reserved by Tej Publishing House