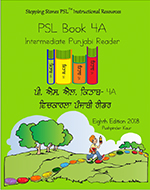 PSL Book 4A
The student at Level 4 will review the Penty and Matras using the most common words in Punjabi language. They will learn basic vocabulary about relations, sports, weather, seasons and foods and counting up to 75 in Punjabi. They will be able to read short poems and stories and learn grammar from them. They will use the following resources to achieve the benchmarks.
Paperback
On sale : Jan,31,2017
Pages : 48 | Isbn : 98-651-1654
Level : 3+
This book provides the intermediate level reader hours of fun in reading silly stories, poems and essays. Most of the stories have a predictable linguistic pattern that the student can follow. The reading enjoyment builds reading fluency and increased interest in language learning. Each lesson includes vocabulary, grammar and comprehension exercises.