Book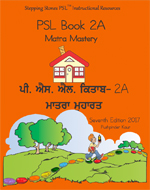 PSL Book 2A
The student at Level 2 will learn the symbols and the sounds of the nine Matras using the Muhaarni, the five sound modifiers, read Mukta and Matra words, names of days, months, and counting up to 25 in Punjabi. They will use PSL Book 2A to achieve the benchmarks. Book 2A has 130 pages filled with 26 lessons that include a review of the Penty Akhri, Mukta words, instruction in Matras, names of colors, days, months and counting up to 25 in Punjabi. The student is able to read beginning level Punjabi by the end of PSL Book 2A.
Paperback
On sale : Jan,31,2017
Pages : 48 | Isbn : 98-651-1654
Level : 3+
This book builds proficiency in the vowel symbols and sound modifiers of the Gurmukhi script. There are a total of 9 vowel symbols and 5 sound modifiers. Each vowel symbol is taught in one lesson. The focus is building mastery of reading words and sentences made with that vowel symbol. Ten words are selected to teach one vowel symbol. There are a number of exercises to develop recognition of the symbol. Each lesson includes spelling activities for those ten words. Each week the student takes the spelling test with spelling words as well as sentences.





Copyright © All Rights Reserved by Tej Publishing House